About Us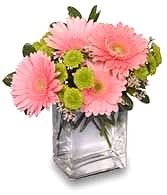 When you think of flowers... think of ours!
Old House Florals has been serving all of the Bridgeton and surrounding areas floral needs for over 15 years. Our experienced and courteous designers can design a perfect arrangement for you, whether you prefer something modern and unique... or time honored and traditional.
We offer daily deliveries to Newcomb Hospital, Bridgeton Hospital, Elmer Hospital, South Jersey Medical Center, and Salem Hospital. We also deliver to Brooks Westside Funeral Home, Edward & Sons Funeral Home, Christy Funeral Home, and De Marco-Luisi Funeral Home.
Our store's operating hours: Monday through Saturday 10:00 am to 6:00 pm and Sunday 8:00 am to 12:00 pm. Closed Sunday.
Old House Florals can serve all of your gift giving needs.
We specialize in wildflower vases and specialty arrangements with butterflies and doves. We also carry a vast gift line including candles, plush, rose petal potpourri, and angels. So whether you are looking at our beautiful fresh arrangements or striking green plants, we can design and deliver the freshest, most attractive gifts to please your friends and loved ones.